IELTS Speaking Clothes & Fashion: Tổng hợp đề thi, đáp án và từ vựng
Chinh phục IELTS Speaking Clothes & Fashion bằng đề thi, câu trả lời mẫu và bộ từ vựng cực hay và đầy đủ nhất mà IZONE đã tổng hợp trong bài viết này.
Tổng hợp đề thi và bài mẫu IELTS Speaking Clothes & Fashion
Đề thi và bài mẫu IELTS Speaking Clothes & Fashion part 1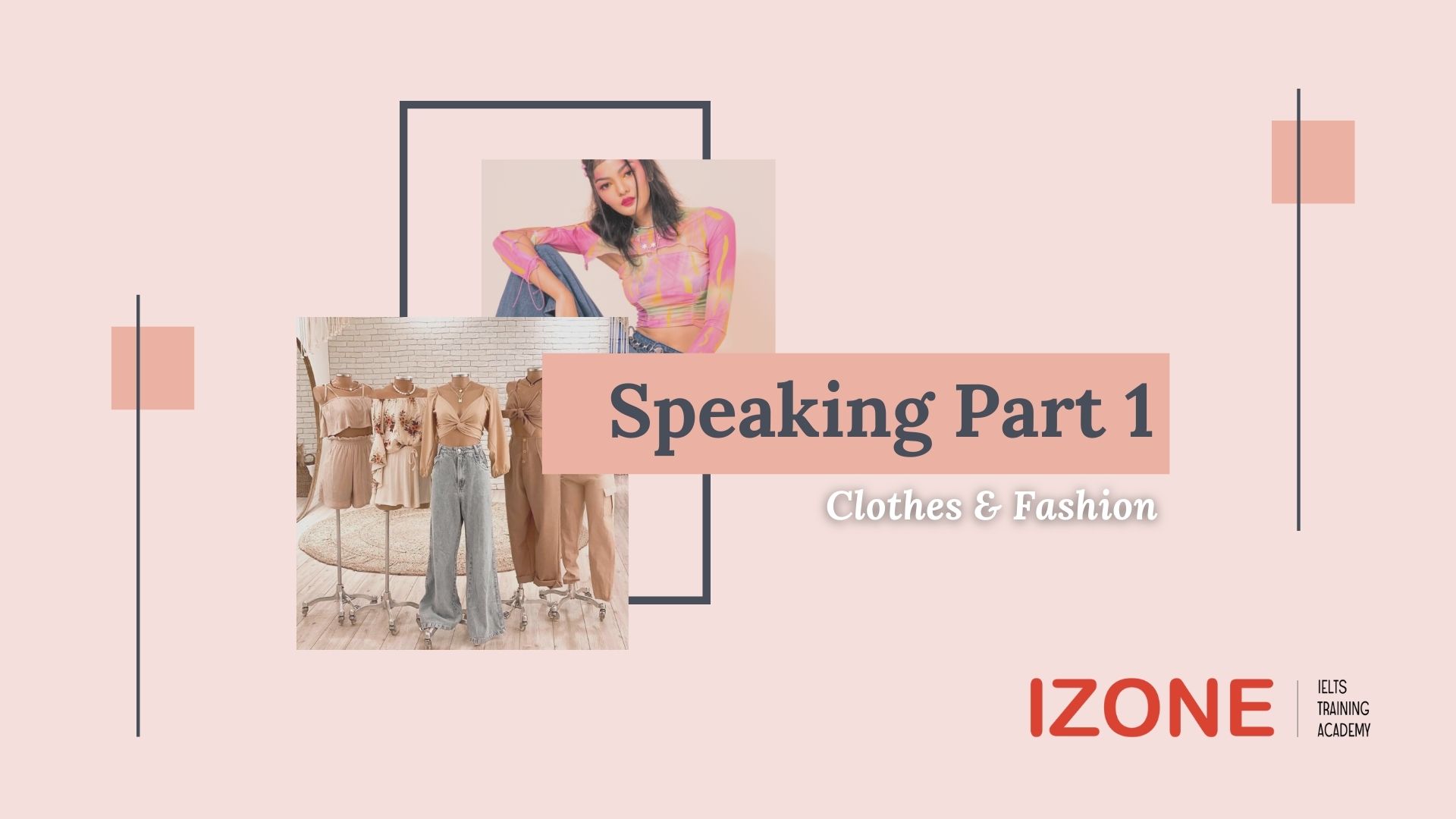 Đề thi và bài mẫu IELTS Speaking Clothes & Fashion part 2
Describe clothes you wear on special occasions
You should say:
What they are
Where you buy them
Why you wear them
 And what people think about them
I prefer to dress in comfortable clothes and feel so most of the time. I prefer to wear smart, so the casual slacks, white shirts, and a blazer are for the majority of special occasions. Suits and formal shoes are essential components for my entire appearance at times when the social gathering I attend requires a higher level of formality.
Since I'm always looking to save up, most of my casual clothes, even the smart ones, come from marketplaces and common fashion brands like Zara or Uniqlo. However, I have greater expectations when it comes to my formal attire, particularly in terms of materials and their longevity. As a result, I usually purchase my shirts from a reputable fashion house. I've ordered clothes online for special occasions before, but I prefer to try them on first and see how they fit on me. I must admit that I enjoy the variety of options available at the stores.
My family enjoys seeing me in formal attire since it complements my features quite a bit. My build is on the slimmer side. Not many find any issues in my attire, most they have said was that I can look rather uptight. My friends, on the other hand, seem to enjoy this personality of mine, manifesting through my clothes. 
I choose to stick to the formal way of dressing. I prefer to dress to please myself rather than wear the clothes that others would choose to follow trends, or dress too casual.
Đề thi và bài mẫu IELTS Speaking Clothes & Fashion Part 3
Tổng hợp từ vựng chủ đề Clothes & Fashion
Từ
Nghĩa
Ví dụ

to be on trend

bắt kịp xu hướng

He was a fashion designer. Of course has had to

be on trend

casual clothes

quần áo thường ngày/bình thường

I prefer

casual clothes

over formal ones.

classic style

kiểu dáng cổ điển

Our teacher prefers

classic styles,

so he often wears a velvet blazer with dress trousers.

designer clothes

quần áo hàng hiệu/ hàng thiết kế

I have never been able to afford

designer clothes.

to dress for the occasions

mặc đúng dịp

It is important to not rely so much on casual clothes, and learn how to

dress for the occasion

.

fashionable

hợp thời trang

One thing she was known for is that she was quite

fashionable

. 

fashion house

hãng thời trang cao cấp

She visited a

fashion house

to look for a high quality suit.

fashion icon

biểu tượng thời trang

Mailyin Monroe was a known

fashion icon.

fashion show

buổi trình diễn thời trang

Are you coming to the Paris

Fashion Show? 

to get dressed up

ăn mặc diện, lên đồ

It is only a work party, you don't have to

get dressed up

for it.

to have an eye for fashion

có mắt thẩm mỹ thời trang

People often laugh at me since I don't have

an eye for fashion

despite being in art school.

keep up with the latest fashion

theo đuổi xu hướng thời trang mới nhất

My mom strangely has managed to

keep up with the latest fashion

after all these years.

to mix-and-match

phối đồ

She only has 5 set of clothes, yet she managed to

mix and match

them so well that no one notices that.

old fashioned

lỗi thời

Pencil skirts are so

old fashioned

now.

well-dressed

mặc đẹp

Peter has never been as

well dressed

as he is at his sister's wedding.

fashion sense

gu thời trang

Over the year, his girlfriend has changed his

fashion sense.

ever-changing

liên tục thay đổi

Fashion is

ever-changing,

look sharp

nhìn nhanh nhẹn, gọn gàng

You have to

look sharp

for this interview

break the bank

chi tiêu hết nhiều tiền

I don't want to

break the bank

dressing up for this date.

aesthetic

thẩm mỹ

I much prefer the aesthetic of the 90s

loose-fitting

cỡ rộng

We need

loose-fitting

clothes if we want to go out today

form-fitting

cỡ vừa với thân hình

She never wears

form-fitting

clothes.

attire

trang phục

Formal

attire

is required for this restaurant.

A slave to fashion/fashion devotee

tín đồ thời trang

As

a slave to fashion,

I buy every single new pair of jeans from that brand.

runways

sàn catwalk

I saw that jacket at the

runways

shown on TV last week.
Hy vọng với các câu hỏi, câu trả lời mẫu và bộ từ vựng IELTS Speaking Clothes & Fashion mà IZONE tổng hợp strong bài viết này đã giúp bạn học tập, ôn luyện tốt và đạt được điểm cao trong kỳ thi sắp tới.