Topic IELTS Speaking Holiday – Luyện IELTS Speaking theo chủ đề
Chủ đề Holiday là một trong những chủ điểm thường xuyên xuất hiện trong đề thi IELTS Speaking. Vậy, với đề bài này, các thí sinh sẽ sử dụng cụm từ, cách diễn đạt nào để "ăn điểm" trong mắt giám khảo? Cùng tham khảo bài viết dưới đây do IZONE tổng hợp nhé!
Tổng hợp từ vựng những chủ đề về Holiday
Từ vựng chủ đề IELTS Speaking Holiday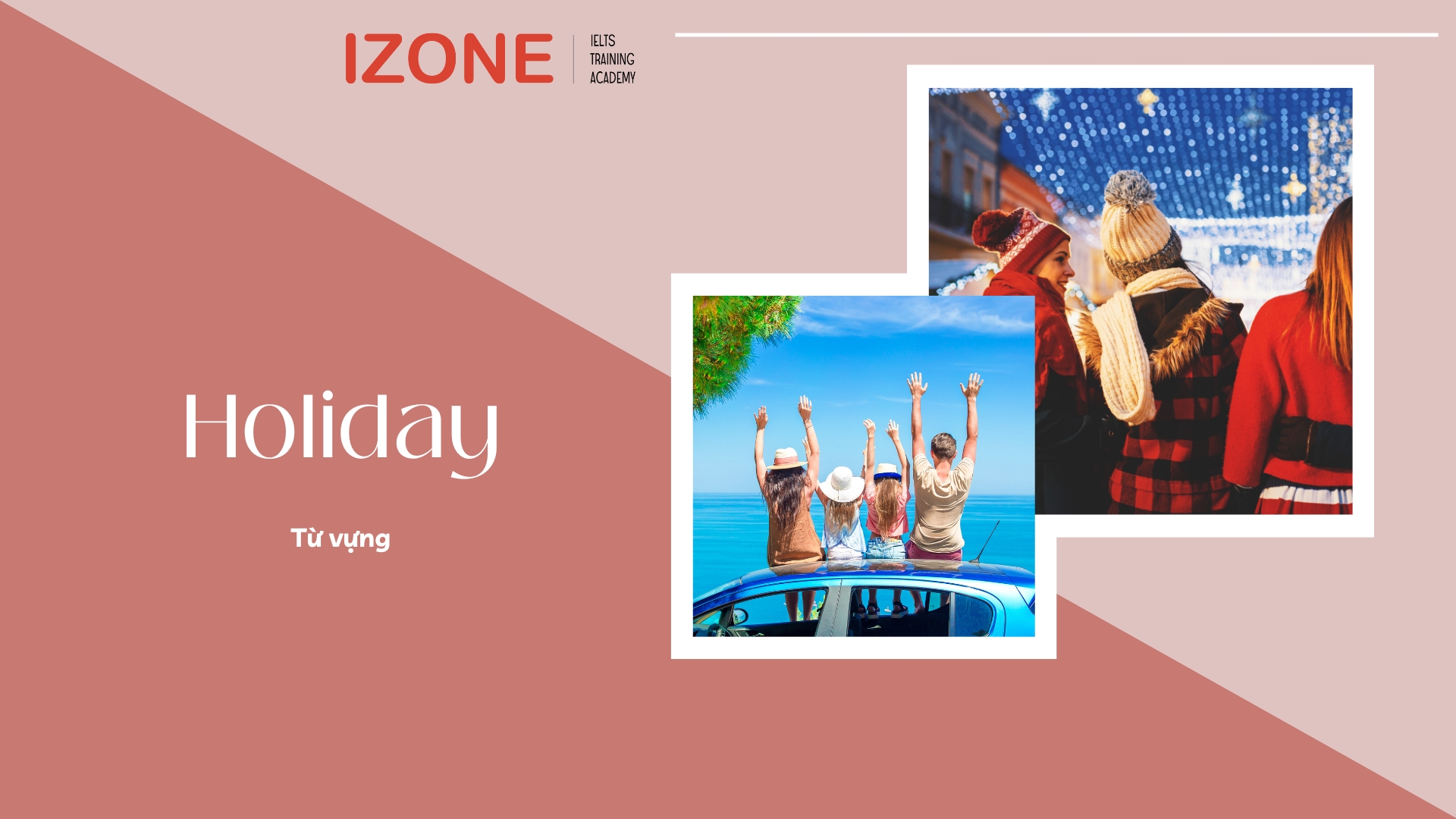 Từ vựng
Phiên âm
Loại từ
Nghĩa
Tiếng Anh
Nghĩa
Tiếng Việt
Package holiday

/ˈpæk.ɪdʒ ˈhɑː.lə.deɪ/

Noun

A vacation booked by a travel agency for which you pay a predetermined sum that includes hotel, travel, and sometimes meal expenses.

Du lịch trọn gói

Ví dụ: We booked a package holiday to Phu Quoc for our summer break 

Holiday of a lifetime

/ˈhɑː.lə.deɪ ɑːv eɪ ˈlaɪf.taɪm/

Noun

The greatest vacation you will ever experience.

Kỳ nghỉ tuyệt vời nhất mà bạn từng trải nghiệm.

Ví dụ: My first trip to Ho Chi Minh City will always be my holiday of a lifetime

Guided tour

/ˌɡaɪdɪd ˈtʊər/

Noun

A visit to a location such as a museum with a guide who provides information about the location

Chuyến du lịch có hướng dẫn viên

Ví dụ: 

A far-off destination

/ˌfɑːˈrɑːf ˌdes.təˈneɪ.ʃən/

Noun

a distant place

Địa điểm du lịch rất xa

Ví dụ: This time we decided to head for a far-off destination where we're not familiar with so that we could discover more about the world

Holiday destination

/ˈhɑː.lə.deɪ ˌdes.təˈneɪ.ʃən/

Noun

place to go for a holiday

Địa điểm du lịch

Ví dụ: Swiss is my all-time favourite holiday destination

Breathtaking view

/ˈbreθˌteɪ.kɪŋ vjuː/

Noun

The extremely beautiful or amazing view

Khung cảnh đẹp tuyệt vời

Ví dụ: There is a breathtaking view from the top of the mountain

Go sightseeing

/ɡoʊ ˈsaɪtˌsiː.ɪŋ/

Noun

The activity of visiting fascinating places, especially on vacation

Ngắm cảnh

Ví dụ: There was no time to go sightseeing in Seattle

Local crafts

/ˈloʊ.kəl kræft/

Noun

artwork that can be done with the use of our hands or manual skills

Sản phẩm thủ công

Ví dụ: Pottery is one of the most famous local crafts in Thanh Hoa

Luggage

/ˈlʌɡ.ɪdʒ/

Noun

the bags, suitcases, etc. that contain your possessions and that you take with you when you are travelling

Hành lý

Ví dụ: We dropped our luggage off at the homestay and went diving

Place of interest

/pleɪs ɑːv ˈɪn.trɪst /

Noun

A place where an indefinite number of persons are interested in it for some reason such as scenery, history etc

Địa điểm du lịch được ưa thích

Ví dụ: Nissi Park is not only the main place of interest for entertainment but also for film industry

Passport

/ˈpæs.pɔːrt/

Noun

A document including personal information and, typically, a photograph that enables international travel and serves as identification.

Hộ chiếu

Ví dụ: My passport has been renewed

Baggage allowance

/ˈbæɡ.ɪdʒ əˌlaʊ.əns/

Noun

the weight or number of cases and bags that you are allowed to take onto an aircraft without paying extra

lượng hành lý cho phép

Ví dụ: Each passenger has a baggage allowance of 30 kg

High season (>< Low season)

/ˌhaɪ ˈsiː.zən/

Noun

the time of year when the greatest number of people visit a place and when the prices are at their highest level

Mùa cao điểm

Ví dụ: During high seasons, the price of travel frequently skyrockets.

Round trip

/ˌraʊnd ˈtrɪp/ 

Noun

a journey to one or more places and back again

Du lịch khứ hồi

Ví dụ: It takes us more than six hours to make a round trip

Itinerary

/aɪˈtɪn.ə.rer.i/

Noun

a comprehensive route or plan for a journey

Lịch trình (một cách chi tiết)

Ví dụ: We have the travel agency plan our itinerary and arrange transport

Check-in >< Check-out
 

Phrasal Verb

to show your ticket at an airport so that you can be told where you will be sitting and so that your bags can be put on the aircraft

Làm thủ tục khi đến (hoặc đi)

Ví dụ: It is compulsory for passengers to check in two hours before the plane takes off

Domestic trip

/dəˈmes.tɪk trɪp/

Noun

A trip made by a resident of a given country within his/her residential country, and outside his/her usual environment

Du lịch trong nước

Ví dụ: Adults are the target audience for the show
Từ vựng chủ đề IELTS Speaking Vacation
Từ vựng
Phiên âm
Loại từ
Nghĩa
Tiếng Anh
Nghĩa
Tiếng Việt
Vacation

/veɪˈkeɪ·ʃən/

Noun

a period of time to relax or travel for pleasure instead of doing your usual work or school activities

Kỳ nghỉ du lịch

Ví dụ: My family had just left for vacation in Hawaii

Accommodation

/əˌkɑː.məˈdeɪ.ʃən/

Noun

əˌkɑː.məˈdeɪ.ʃəna place to live, work, stay, etc. in

Chỗ ở

Ví dụ: Our holiday accommodation was wonderful

All-inclusive

/ˌɡaɪdɪd ˈtʊər/

Adjective

including everything, especially including the cost of all services that are offered

Bao gồm trọn gói

Ví dụ: all-inclusive cost/deal/price/holiday/package/resort

Self-catering

/ˌselfˈkeɪ.t̬ɚ.ɪŋ/

Adjective

(of a holiday) having cooking facilities available so that you can cook meals for yourself rather than having them provided for you

(Du lịch) Tự phục vụ

Ví dụ: To create memorable memories, we decided to go for self-catering rather than an inclusive hotel

Book

/bʊk/

Noun

to arrange to have a seat, room, performer, etc. at a particular time in the future

Đặc trước

Ví dụ: We had already booked a table for five at our favourite restaurant for the Viet Nam trip next month

Tourist attraction

/ˈbreθˌteɪ.kɪŋ vjuː/

Noun

a place that people visit for pleasure and interest, usually while they are on holiday

Điểm du lịch thu hút nhiều khách du lịch

Ví dụ: It was an important trading village in ancient times and now it has become more of a tourist attraction

Tourist trap

/ˈtʊr.ɪst ˌtræp/

Noun

a crowded place that provides entertainment and things to buy for tourists, often at high prices

Địa điểm có quá nhiều khách du lịch

Ví dụ: The street market is a tourist trap that mostly sells cheap souvenirs

Tranquility

/træŋˈkwɪl.ə.ti/

Noun

a peaceful, calm state, without noise, violence, worry, etc

Sự thanh bình

Ví dụ: The village's tranquillity is what makes it become the main tourist attraction

Souvenir

/ˌsuː.vəˈnɪr /

Noun

something you buy or keep to help you remember a holiday or special event

Quà lưu niệm

Ví dụ: We bought a pack of souvenir to our friends at home

Excursion

/ɪkˈskɝː.ʃən/

Noun

a short journey usually made for pleasure, often by a group of people

Chuyến du ngoạn, tham quan

Ví dụ: My family are planning to go on an excursion to Korea next week

Resort

/rɪˈzɔːrt/

Noun

a place where many people go for rest, sport, or another stated purpose

Khu nghỉ dưỡng

Ví dụ: A tourist/ holiday/ seaside/ beach resort

Getaway

/ˈɡet̬.ə.weɪ/

Noun

A getaway is also a place where you go for a vacation

Nơi nghỉ ngơi

Ví dụ: Camping is a somewhat popular weekend getaway in my hometown

Quaint

/ˌraʊnd ˈtrɪp/ 

Adjective

attractive because of being unusual and especially old-fashioned

Bình yên, mộc mạc

Ví dụ: That café is popular for its quaint vibe

Scuba diving

/ˈskuː.bə ˌdaɪ.vɪŋ/

Noun

Swimming underwater with specialized breathing apparatus

Lặn mang bình khí

Ví dụ: Sam Son beach offers a great scuba diving experience

Trekking

/ˈtrek.ɪŋ/

Noun

the activity of walking long distances on foot for pleasure

Leo núi

Ví dụ: Trekking in the Himalayas is one of the top thíngs we want to experience in this year vacation 

Surfing

/ˈsɝːfɪŋ/

Noun

The sport of riding waves on specialized boards.

Lướt sóng

Ví dụ: Surfing is definitely the most famous water sport
Từ vựng chủ đề IELTS Speaking Leisure time
Từ vựng
Phiên âm
Loại từ
Nghĩa
Tiếng Anh
Nghĩa
Tiếng Việt
Extracurricular activity

/ˌek.strə.kəˈrɪk.jə.lɚ ækˈtɪv.ə.t̬i /

Noun

a student-performed activity that is outside the scope of the standard school, college, or university curriculum.

Hoạt động ngoại khoá

Ví dụ: My school is famous for its dynamic extracurricular activities

Hectic

/ˈhek.tɪk/

Adjecti-ve

active or extremely busy and rapid

bận rộn

Ví dụ: I often plan out a hectic schedule when I have a day off

Leisure pursuit

/ˈliː.ʒɚ pɚˈsuːt /

Noun

A habitual pastime pursued for enjoyment in one's spare time.

Thói quen, sở thích

Ví dụ: I don't have much chance for leisure pursuits these days

Daily routine

ˈdeɪ.li ruːˈtiːn/

Noun

the usual series of things that you do at a particular time

Hoạt động thường ngày

Ví dụ: Immersing in a good book is my favourite activity is my daily routine

Hang out
 

Phrasal Verb

to spend considerable time in a place or with a person

Dành thời gian đi chơi với

Ví dụ: Swiss is my all-time favourite holiday destination

Free/ Spare time

/ˌfriː ˈtaɪm/

 

time without obligations to work, study, etc. and can do what you want

Thời gian rảnh

Ví dụ: I have been extremely stressed these days because of lack of spare time for myself

Make the most of your free time

 

 

 

Tận dụng tối đa thời gian rảnh

Ví dụ: He's always tried to make the most of his free time due to the inadequate spare time

Couch potato = inactive person

/ˈkaʊtʃ pəˌteɪ.t̬oʊ /

 

A place where an indefinite number of persons are interested in it for some reason such as scenery, history etc

Người có lối sống thụ động

Ví dụ: You're such a couch potato on weekends

be/ get hooked on 

 

 

addicted to

Nghiện cái gì

Ví dụ: She got hooked on video games during weekend

Chill out

 

Phrasal Verb

to entirely unwind or to not let anything disturb you

Thư giãn

Ví dụ: We spent the whole month chilling out on the beach

Let one's hair down

 

 

act in an unrestrained or carefree manner

Thư giãn

Ví dụ: Let your hair down and just have some fun

Recharge

/ˌriːˈtʃɑːrdʒ/

Verb

to acquire new energy or to impart new energy

Nạp thêm năng lượng

Ví dụ: Regular breaks are the time that we can recharge ourselves
Đề mẫu IELTS Speaking Holiday
Đề mẫu IELTS Speaking Holiday Part 1
Đề mẫu IELTS Speaking Holiday Part 2
Describe a vacation you took.
You should say: 
Where you went. 

Who you went with. 

What you liked/didn't like. If you choose to take a similar vacation in the future.
I'm going to write about a trip I took to Barcelona around 7 years ago, despite the fact that I've been fortunate to go to numerous countries.
First and foremost, Barcelona is a significant Spanish seaside metropolis. It is known for its beautiful architecture, gastronomy, and culture. It's perhaps one of Europe's most visited tourist spots. The flight was lengthy, but totally worth it!
Actually, I traveled there alone. I was on leave from work and hadn't taken a vacation that year. Because most of my friends were preoccupied with work, I booked a flight on the spur of the moment! I was apprehensive because it was my first time traveling alone, but it turned out to be an incredible experience.
I instantly recognized why Barcelona is such a well-known city when I arrived. The old structures left a lasting impression on me. The city contains many architectural marvels. Needless to say, I snapped a lot of pictures! Furthermore, the locals were friendly and helpful in orienting myself. To be honest, I didn't like the local cuisine. It wasn't my cup of tea because it was so different from the meals here.
If given the opportunity, I would return to Europe. The trip exposed me to a new culture, and despite the fact that I didn't eat much while there, it was a fantastic experience. Unfortunately, I will not be returning to Europe anytime soon because I am now concentrating on my academics. If I could go back, I would like to share the experience with some of my closest friends.
Describe a recent vacation that you took.
You should say: 
Where you went 

How you got there 

Describe what you did there and whether you enjoyed it.
I'd like to discuss a vacation I took a few months ago in the south of Vietnam.
I traveled with my parents to Nha Trang, a gorgeous coastal town where we decided to go so that they could observe living on the beach and see a different area of the country.
We traveled there via plane from Hanoi, Vietnam's capital. The flight took roughly an hour and went without a hitch. We were one of the first people on board and one of the first people off the plane when we landed. It was unquestionably faster and more convenient than taking the train, which may take up to 15 hours.
We barely got to do a few things throughout our three-day trip because there was so much to do. We took a sail around the islands then went inland for some sightseeing. Taking a cooking class was a lot of fun since we got to buy fresh ingredients from the local market and learn how to fry fresh fish and other shellfish like crab and lobster in a wok.
We had a great time and if given the chance, we would return to the location.. We will never forget seeing the colorful lifestyle of the natives and having the opportunity to explore stunning surroundings. It was a once-in-a-lifetime vacation for my parents, and they're still talking about it. If I could live there, I would.
Đề mẫu IELTS Speaking Holiday Part 3
Hy vọng rằng bài viết này đã giúp bạn nắm được các câu hỏi và từ vựng thường gặp trong IELTS Speaking Holiday. Chúc các bạn học tốt!
Báo cáo lỗi